Oddly enough, I am quite picky about handsoap. I like the foamy stuff better than the gel (I feel like I am using less I think!). I also do not like to use antibacterial agents. Not only are the unneccesary but they're bad for the environment. Soap, water and a bit of scrubbing is all you need to rid yourself of bacteria anyway.
Having said all that, I have a money-saving tip involving handsoap.
I simply re-use foam dispensers I got from Bath and Body works and fill them with Dr. Bronners castile soap. Castile soap is a type of soap made from olive oil rather than animal fat, so appeals largely to vegetarians. I like it because it has so few ingredients and is SAFE. Bonus... if you ever buy a bottle of Dr. Bronners, you'll have a hoot reading his label, found
here
.
It's important to dilute the soap. The bottle costs between eight and nine dollars but it ends up worth it. Trust me.
Once you start drawing air from your pump. Add the soap.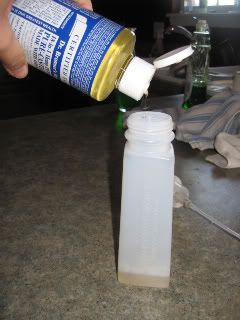 Add about this much. Top off with water. Viola!